Hauraki Gulf Pelagic Cruise: Part 2
We stopped in the lea of Little Barrier Island for a much-needed respite from the stomach-churning rough seas and a spot of lunch, whilst watching Kakas distantly flying between the trees. Little Barrier Island is on the outer edge of the Hauraki Gulf and is the only remaining large forested area undisturbed by introduced browsing animals. As such, it is a specially protected reserve where human disturbance is kept to a minimum and great care is taken to ensure the island is kept free of introduced animals and plants. The inaccessible nature of much of the island means the only way the DOC rangers can carry out their essential weeding duties is suspended 50m below a helicopter...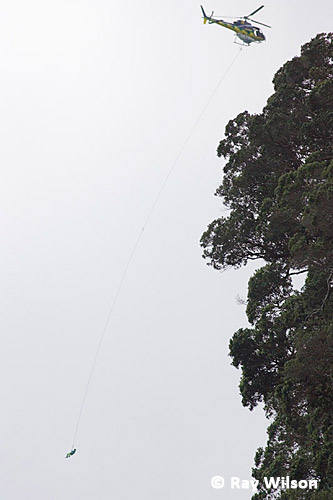 DOC ranger dangling from a helicopter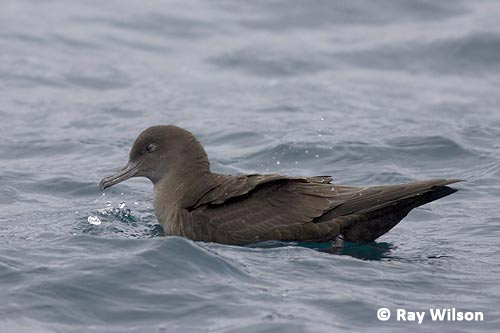 Short-tailed Shearwater (Puffinus tenuirostris)
After lunch we headed out from Little Barrier Island in search of our main quarry. After a long period of chumming with a good variety of species surrounding us, including our only Short-tailed Shearwater (above), a New Zealand Storm-petrel finally flew into view to the relief of everyone on board. It's amazing how the sighting of a rare bird can help you forget about the nauseating lurching of the boat!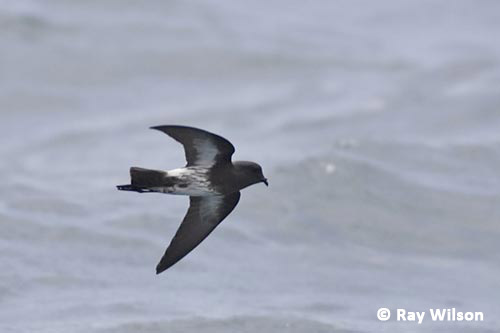 New Zealand Storm-petrel (Oceanites maorianus)
The taxonomic status of this newly rediscovered species is currently uncertain and the above name is only provisional, but hopefully the serendipitous capture of a bird that flew into the cabin of a fisherman's boat, allowing a full set of measurements and feathers (for DNA analysis) to be taken, will help to clarify the issue.
[For the full story of the rediscovery of the New Zealand Storm-petrel visit the Pterodroma Pelagics webpage]
Time was marching on and Karen was wanting our skipper to drop her and her tour group off on Tiritiri Matangi Island by 4pm, so we had to motor back across the gulf at full speed with only a short stop to view the seabirds (including a Northern Giant Petrel) congretating around a fishing boat. Numerous Common Diving-petrels were also seen on the trip back but none were very close.
At Tiritiri Matangi Island our skipper was in no hurry to get back, so we got off and had a walk around for an hour or so and managed to get good views of almost all the species that have been relocated there: Brown Teal, Kokako, Whitehead, Stitchbird, Saddleback and New Zealand Robin (see the Tiritiri pages for photos). A good taster for what was in store for me during the 3 days I was scheduled to spend on the island!
The Little Blue Penguins were starting to congregate offshore as we were leaving...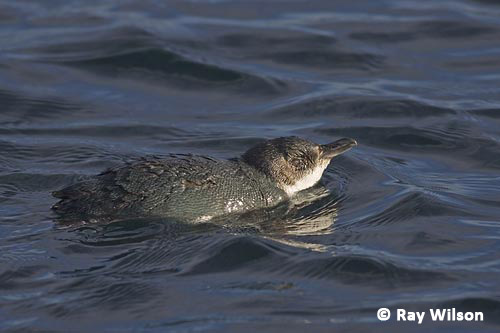 Little Blue Penguin (Eudyptula minor)
A final stop at Kawau Island on the way back allowed us distant views of a Weka on the beach by the old govenor's mansion, then it was back to Sandspit, arriving just as the sun was setting.

Kawau Island
The Hauraki Gulf is littered with small islets close to the mainland...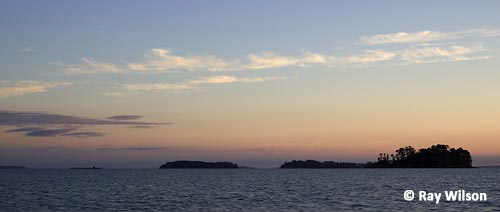 Gulf Islands at sunset