Kea
Nestor notabilis
Homer Tunnel, New Zealand - November 2005
Endemic to the highlands of South Island, New Zealand, the Kea is unusual in its mainly ground dwelling behaviour and preference for mountain habitats.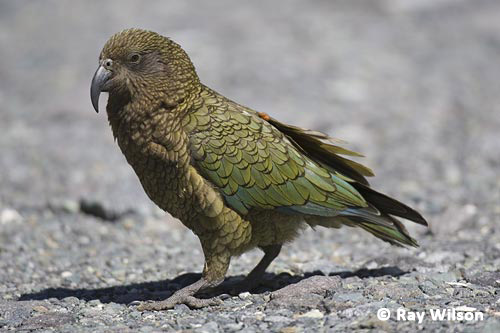 Homer Tunnel, New Zealand - November 2005
Probably due to the scarcity of food resources in its chosen habitat, the Kea has evolved an extremely inquisitive nature and will investigate practically anything to see if it is edible. This behaviour has got it into trouble in the past. Throughout the 19th and early 20th centuries the Kea was heavily persecuted due to the mistaken belief that they killed and ate sheep. It has since been proven Keas usually only eat sheep when they are already dead, but will on rare occasions also attack diseased or dying sheep.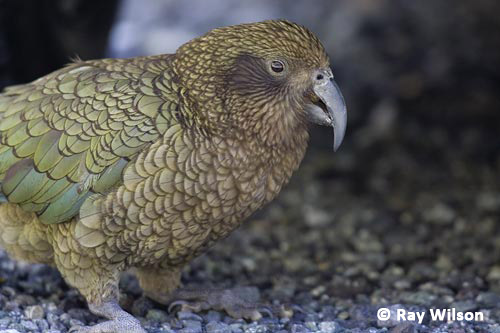 Homer Tunnel, New Zealand - November 2005
Their powerful, elongated upper mandible is well adapted for digging up roots and bulbs...and ripping the rubber seals and wiperblades from parked cars at ski slopes and picnic areas.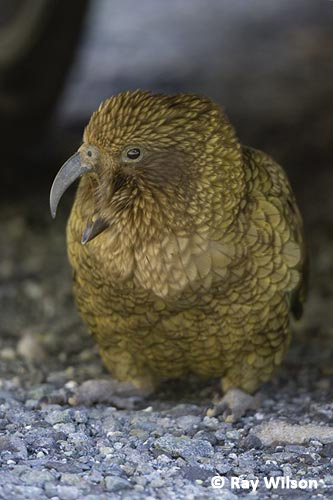 Homer Tunnel, New Zealand - November 2005