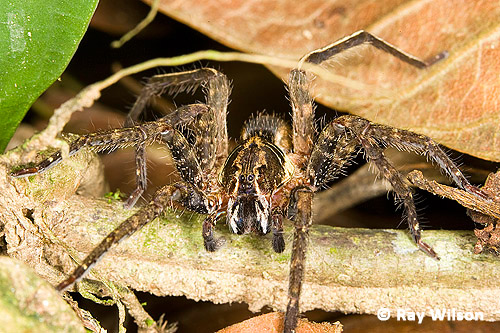 Tambopata, Peru - December 2008
Wandering spiders of the genus Phoneutria are often considered to be the most venomous spiders in the world, with a venom 2x more toxic than the Black Widow (Latrodectus mactans). Some estimates suggest as many as 5 deaths per year are due to these spiders but this data is very unreliable and most of these may not be truly attributable to spider bites at all.

possibly Phoneutria boliviensis - Tambopata, Peru - December 2008
The toxin of wandering spiders contains a mix of potent neurotoxins that act as calcium-channel blockers in the synapses. This can lead to a loss of muscle control and, in extreme cases, paralysis. However, it has been shown that they only inject venom in less than 30% of bites, and only a partial dose in a third of these. In less than 2% of confirmed bites by wandering spiders are the symptoms serious enough to warrant the administration of anti-venom. However, they can be highly aggressive spiders who will attack with a lot less provocation than most spiders and should be treated with extreme caution.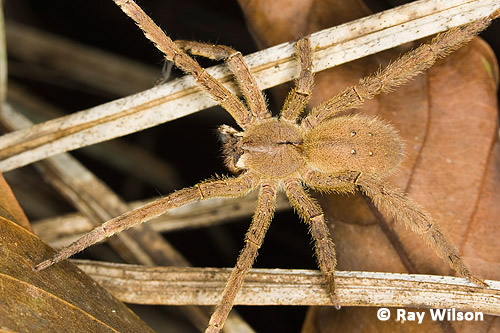 possibly Phoneutria boliviensis - Tambopata, Peru - December 2008
Phoneutria are large spiders with a leg span of 10-13cm and are found solely in tropical South and Central America. They spend their days hiding in their silken burrows, but at night emerge and wander the forest floor in search of prey, hence their common name.

Tambopata, Peru - December 2008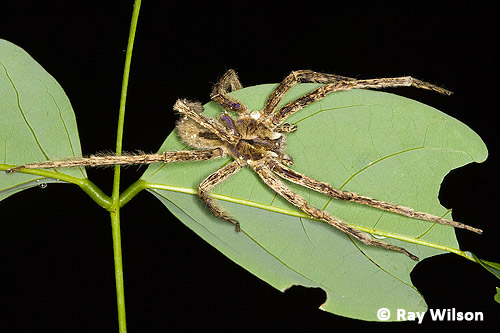 Tambopata, Peru - December 2008